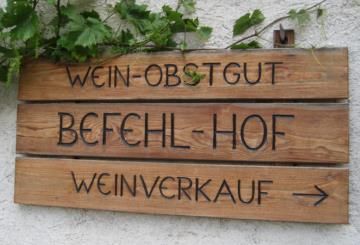 A Primitive Rock of Val Venosta Wine
Wine grapes have been grown at the Befehlhof since 1370, and Fraueler once again for the last forty years
Anyone who sees the steppe landscape on Monte Mezzodì in the Val Venosta does not think of grapes at all. And yet, at the Befehlhof in Vezzano, wine grapes have been grown since as early as 1370. Six centuries later, Oswald Schuster has the helm here and obligated by tradition, growing among other varieties a Val Venosta Fraueler.

By the 1980s, Fraueler had broadly disappeared from the scene when Oswald and Magdalena Schuster decided to devote a portion of their 1.2 hectare vineyard to this typical Val Venosta grape. And furthermore: the Schusters are the only ones to make Fraueler as a single varietal wine. And with impressive results: "Jera", the Fraueler from the Befehlhof in Vezzano, is described as "fruity and fresh, floral, sleek and elegant, with a prominent mineral-rich tone."

Aside from the original Val Venosta grape, also growing in the vineyard at an elevation of 710 meters are Sylvaner, Gewürztraminer, Kerner, Müller Thurgau, Pinot Noir, Zweigelt, and Riesling. The latter, which today is a widely disseminated wine in the Val Venosta, has Oswald Schuster to thank for its existence, since he was in fact the first one to have planted it here.

And as adventurous as the Schusters are with their selection of grape varieties, that's how innovative (and, at the same time, down-to-earth) they are in the winery. Thus they focus on spontaneous fermentation thanks to the naturally occurring wine yeasts. "As a result of this, the wine becomes more multifaceted, more complex, and more interesting," says Schuster, who has even ventured to make a Val Venosta sparkling wine. He calls it "Sällent", named after a mountain in Martello. The high point of production, so to speak.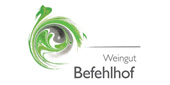 "As a result of spontaneous fermentation with wine yeasts that are naturally present in the grapes, the wine becomes more multifaceted, more complex, and more interesting."
Oswald Schuster, winegrower at the Befehlhof
Wine Varieties
Souvignier gris
Blauburgunder
Muscaris
Zweigelt
Weißburgunder
Sekt
Riesling
Monday to Friday from 9 am to 12 am
Afternoons & Saturdays with advance booking