The Southernmost of the Valle Isarco
Wine from Fiè allo Sciliar? There is, and it's even first class
Winegrowing is not the first thing that comes to mind with Fiè allo Sciliar. And yet, thanks to the favorable location, grapes have been grown at the Bessererhof in Fiè for six decades, and it has been more than two decades now that they have been making their own wine. Within that context, what comes into play for the Mair family is not just the hours of sunshine, but also an impressive difference in elevation between the vineyards of the Bessererhof.

It is regarded as the southernmost estate winery in the Valle Isarco, through which the cooler air from the north streams as far as the vineyards of the Bessererhof. And the necessary heat is provided by the Bolzano basin, the ridges of which reach the estate. So both a sunny, low-precipitation climate and the optimal temperature differentials are present.

The Bessererhof itself lies at an elevation of 350 meters above sea level, while the vineyards around the farmhouse fundamentally differ from those which the Mair family planted in Fiè at 800 meters and in Tiso at the entrance to the Val di Funes as high as 900 meters. What grows here are above all white grape varieties, including Pinot Blanc, Kerner, and Chardonnay, which the junior head Hannes Mair makes into crisp, fruity wines with an extraordinary intensity.

While the son Hannes is responsible for the winery, his father Othmar takes care of the work in the vineyard, and the mother Rosmarie on the other hand handles the sales of the 50,000 to 60,000 bottles per year that ae produced at the Bessererhof in Fiè. So it is a genuine family-run operation in which the cards which Mother Nature has dealt are played perfectly.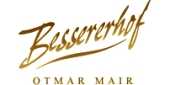 "Even if Fiè may not be known as a winegrowing community. we have nevertheless made it our life's task to make high-quality wines."
Otmar Mair, winegrower at the Bessererhof
Wine Varieties
Zweigelt
Chardonnay
Weißburgunder
Gewürztraminer
Sauvignon Blanc
Sylvaner
Goldmuskateller
Kerner