Tradition Also Means: Work by Hand
Seven hundred years of estate history leave behind their legacy
The Eberlehof above Bolzano was mentioned in a document for the first time in 1312, and thus more than 700 years ago. It has been in family possession since 1668 and for just as long, the family's coat of arms has been decorated by a pruning hook. And that is not surprising, as the Eberlehof lies right in the middle of the classic Santa Maddalena winegrowing zone.

And it is also not surprising that the 700 years of estate and family history have left their legacy behind and they are accompanied by an obligation to uphold tradition and family. The latter becomes clear when it is realized that at the Eberlehof, three generations of the Zisser family are involved at the same time in winegrowing. The elder Horst and his wife Lisi bring along their experience. His son Tomas and his wife Margit manage the vineyards and the winery along with their sons Christian and Lukas and also take care of three vacation apartments at the estate winery.

As far as upholding tradition is concerned, at the Eberlehof it is first and foremost indigenous grape varieties that are typical to the zone (Schiava, Lagrein, and Blatterle) which are grown on pergola trellises, added to which Merlot also finds a spot in the product line. "Just because of the steep location on the slopes, the use of larger machines is already impossible, which is why we tend our vines, some of which are very old, almost exclusively by hand," explains Tomas Zisser. In addition, because maturation takes place in large oak barrels, the red wines from the Eberlehof are full-bodied and strong, and they express their origins. Precisely as tradition would desire.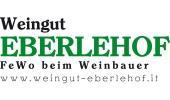 "Because of the steep location on the slopes, the use of machines is already impossible, which is why we tend our vines almost exclusively by hand."
Tomas Zisser, grower at the Eberlehof
Wine Varieties
Lagrein
Vernatsch
Merlot
8am - 12pm / 2pm - 6pm or according to agreement