Art On and In the Bottle
Broad diversity from a traditional estate winery
Since its inception, Franz Haas winery has tirelessly worked to express the quality of the grapes at their finest. Founded in 1880, the winery has been handed down for eight generations to the firstborn son, to whom has always been given the same name, Franz.

In the 1980s most of the vineyards were renewed, leaving space to new varieties more suitable for the type of "terroir". The grapes are sourced from 60 hectares of vineyards, divided between estate-owned properties, rentals and contract farmers. The vineyards start at an altitude of 220 meters, ascending to 1,150 meters with a great variety of microclimates and soils, from porphyry to clay and limestone.

In the year 2000, due to climate change, several hectares were rented at altitudes that reach up to 1,150 meters above sea level; these are among the highest vineyards in Alto Adige today. Now, more than twenty years later, the choice of planting vines at these altitudes has proven to be optimal to produce long-lasting, aromatic wines with a strong acidity. This is supported by the wide thermal excursions between day and night and the four additional hours of sunshine per day. The vineyards are all located in the municipalities of Montagna, Egna, Trodena and Aldino.

We have always given immense attention to our vineyards; we grow them exclusively with organic substances to enhance the natural process of cultivation and fertilization. Our vineyards do not always look like impeccably manicured gardens and often the grass among the rows grows high, but by doing so we bring forth the biological magic of nature, the pollination, the reproduction of flowers and insects that were otherwise absent, and, above all, we continue to make possible the opportunity for our children to see the beauty of blossomed fields.

Franz Haas has always been recognized as a leading enthusiast and an expert of the most arduous, sensitive, and most satisfying grape variety of all: Pinot Nero. Despite all the attention, commitment and hard work, the product is not always up to its original standards and therefore our selection, the "Schweizer", does not always get to the market. Various varieties belonging to the whole range of Alto Adige's wines are vinified with the same attention.

Another detail that distinguishes Franz Haas is the connection with the brilliant artist Riccardo Schweizer who designed the winery's labels. During his career, he collaborated with well-known artists such as Picasso, Chagall, Cocteau, Paul Éluard and Le Corbusier.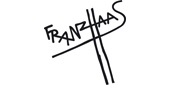 "I'm a meticulous, finicky person who is often his harshest critic."
Franziskus Haas, head of Franz Haas
Wine Varieties
Lagrein
Blauburgunder
Petit Manseng
Müller Thurgau
Rosenmuskateller
Weißburgunder
Vernatsch
Sekt
Gewürztraminer
Sauvignon Blanc
Goldmuskateller
Merlot
Grauburgunder
Pinot Grigio
Monday - Friday:
9.00 am - 12.00 pm and 1.00 pm - 6.00 pm
Saturday:
9.00 am - 12.00 pm and 1.30 pm - 6.00 pm
Visits by appointment on Wednesday, Friday and Saturday at 9.30 am and 3.00 pm on 0471 812280 or by e-mail at shop@franz-haas.it
Vincerdetail.PartnerUS
Empson USA Inc.