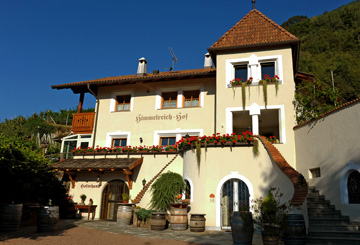 In (Wine) Heaven
In Castelbello, the special feature of the Val Venosta's Monte Mezzodì is exploited
It is not without reason that the Monte Mezzo dì-Sonnenberg carries its name ["Midday Mountain" in Italian, "Sun Mountain" in German]. More than 250 days of sun per year can be counted here, the temperature differentials between day and night are extreme, and the amount of precipitation is lower than anywhere else in Alto Adige. These extraordinary conditions are used by Markus Fliri at the Himmelreich-Hof in Castelbello in order to produce wines with strong character.

Even if Castelbello does not lie within a typical winegrowing zone, wine has been produced at the Himmelreich-Hof since time immemorial. At least for their own use. But in 2004, that was no longer enough for the winegrower Fliri. He wanted to increase the production of quality wines at his estate and also offer them for sale – "interesting, top-quality wines" as the winegrower himself says.

The vineyards of the Himmelreich-Hof, just precisely two hectares, lie at an elevation of 650 meters, and the moraine soils, a remnant of the last ice age, have a high mineral content which can be tasted in the grapes. And thus also in the wine. "It is a matters of importance to us to produce natural, sincere wines with strong character," says Fliri.

His assortment comprises Zweigelt, a red cuvée to which he has given the name "Himmelreich" ["Kingdom of Heaven"], and Pinot Noir. The young wines are transferred into small oak casks to age there and be able to mature in complete tranquility. In addition to those, there is also Pinot Blanc and, new to the Himmelreich-Hof's assortment, Riesling.

So its name was not chosen by chance. At least for wine connoisseurs.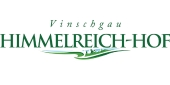 "It is a matters of concern to us to produce natural, sincere wines with strong character."
Markus Fliri, winegrower at the Himmelreich-Hof
Wine Varieties
Blauburgunder
Muscaris
Zweigelt
Cabernet cortis
Solaris
Weißburgunder
Vernatsch
Riesling
Bronner
Tuesday - Saturday from 10 a.m to 6 p.m
13. May - 31. December Tuesday - Saturday from 10 a.m.  to 6p.m.