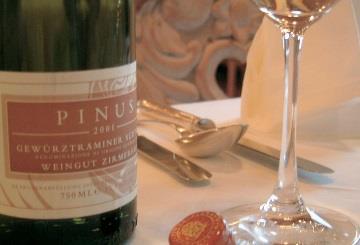 Of Wine and Stone Pines
The Radoin 1560 winery in Redagno also owns an estate winery in Montagna
The Radoin 1560 winery is located in Redagno at the edge of the Monte Corno Nature Park in the southern part of Alto Adige. Here, at an elevation of more than 1,500 meters, the conditions for winegrowing are too harsh, and yet: the Radoin 1560 is also an estate winery, in particular thanks to the vineyards that the Perwanger family operates further down in Montagna.

The historical Zirmerhof is in fact named after the stone pine tree (in the German dialect of Alto Adige, "Zirm"), but why does that play a role in the presentation of the estate winery? It's quite simple: the Gewürztraminer made by Radoin 1560 winery, which is the estate winery's calling card, carries the name Pinus which, in turn, is the shortened form of the Latin name of the stone pine, Pinus cembra.

The grapes for Pinus grow in the Radoin 1560 own "Kühmösl" vineyard. It lies far lower down from Radengo, even somewhat below the winegrowing village of Montagna at an elevation of 400 meters, it is planted with 3,000 grapevines, it is oriented with a southwestern exposure, receives good air flow, and becomes pleasantly cool during the nights of the vegetation period.

Since 2001, they have been pressing the Gewürztraminer grapes themselves that grow there. "We bring the grapes up to the winery where they are gently pressed", explains Josef "Sepp" Perwanger. The must is then fermented in stainless steel tanks with natural yeast. "After that, we age it in large, aged wooden barrels made of acacia, and specifically with lengthy contact with the yeast," says the winegrower from the mountain village of Radengo. For his Gewürztraminer, he follows a clear guiding principle: according to Perwanger, the Pinus should be a unique single vineyard wine. Period.


"We press the grapes gently, the must is fermented in stainless steel tanks with natural yeasts, and then it is aged in barrels of acacia wood with lengthy contact with the yeast."
Josef "Sepp" Perwanger, head of the Radoin 1560 winery in Radengo
Wine Varieties
Blauburgunder
Chardonnay
Gewürztraminer
Open cellar and shop on request
Mo-Fr: 9:00 - 112:00 and 14:00 - 18:00