From the Lake to the Sun Deck
Four vineyards from Lake Caldaro to 600 meters above Cortaccia
The fact that the vacation apartments at the Santlhof in Cortaccia carry the names for "Sauvignon Blanc", "Chardonnay", and "Pinot Blanc" is in no way a coincidence. Not only does the Santlhof lie in the middle of vineyards on a sunny terrace high above the valley, wine is also produced here which can be tasted, among other locations, in the estate's own Buschenschank farmhouse inn.

The history of the Santlhof in Cortaccia goes way back. It already appeared in documents as early as 1547, and specifically in a purchase document. At that time, a certain Matheus Trientner purchased the farmhouse, which was then to have numerous owners in the course of the centuries. Since 1994, it has been in the possession of Georg Mayr, who renovated it from the ground up in 1996 and also runs it today as a winegrowing estate, farmhouse inn, and farm holiday operation.

With his total of 1.5 hectares of vineyards, Mayr focuses on management that is as close to nature as possible, and specifically not just at the estate that is located at an elevation of 585 meters, but also at three other locations which Mayr works. With Chardonnay and Sauvignon Blanc, the vineyards around the farmhouse are the white wine cultivation area of the Santlhof. The red palette, on the other hand, grows with Cabernet and Schiava in the vineyards around Cortaccia and Lake Caldaro.

Thus at the Santlhof in Cortaccia, virtually the entire palette of locations is exploited which the Bassa Atesina has to offer. It's best to just taste your way through them.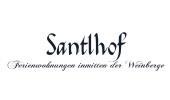 "With all of our products, we focus on one hundred percent natural production. That of course also holds true for our wines."
Georg Mayr, winegrower at the Santlhof
Wine Varieties
Chardonnay
Vernatsch
Sauvignon Blanc
Cabernet Sauvignon