The Vintage Starts in the Vineyard
Small quantities, the right harvest time, and vinification in our own winery
For three generations, the Andergassen family has been making wine in the wine cellar of the Steflhof estate in Caldaro, and two of them are still at the helm even today: the senior with a watchful eye on tradition, and the junior with one on innovation. But it doesn't matter whether it is father or son: the credo at the Steflhof is that a vintage already has its beginning in the vineyard. "That is where the bouquet and the individuality of the wine are decided," explains Georg Andergassen.

So it is certainly no wonder how much value the Andergassens place upon the leaf trimming, but above all else on a strict reduction of harvest quantities and the correct harvest time. "Hitting these is a challenge every year," says Georg. And this challenge is only to be met with a great deal of knowledge and experience, just as a great deal of experience and knowledge about the taste of the customers is needed in order to find the right time for pumping, blending, and bottling.

The fact that the Andergassens have the right knack for this is proven by their wines, first and foremost a fruity Chardonnay, a Lake Caldaro superiore with fine tones of almond, and a full-bodied Merlot that is aged in oak barrels. Anyone wishing to be convinced of the constantly high quality of the wines at the Steflhof would do best with a winery tour. And that concludes traditionally – how could it be any different? – with a tasting.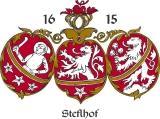 "The results of a vintage can already be found in the vineyard. That is where the bouquet and the individuality of the wine are decided."
Georg Andergassen, winegrower at the Steflhof
Wine Varieties
Lagrein
Chardonnay
Vernatsch
Gewürztraminer
Sauvignon Blanc
Merlot
Cabernet Sauvignon
On request, at least 6 persons