Many Locations Come Together
The two farms and various vineyards are managed biodynamically
One farm in Pochi, another in Chiusa, plus grapevines in Termeno and Cortaccia: under the roof of the Haderburg Estate Winery in Salorno, variety reigns, and at the same time a leitmotif: the entire estate is run biodynamically. "That means that we correspondingly follow the rules of life and also take into consideration the forces which are in the materials and have an effect upon them," explains Alois Ochsenreiter, proprietor of the Haderburg Estate Winery in Salorno.

It is obvious that the biodynamics have their effect first and foremost upon the animals that are kept at and around the estate, but also with the selection of the preparations with which the soil and vines are treated. For instance, medicinal herbs but also dung and silicon are utilized, all of them natural substances, which are put to use on the nearly 13 hectares of grape growing areas.

These are divided between the Hausmannhof in Pochi and the Obermairlhof in Chiusa, as well as vineyards in Termeno and Cortaccia. What emerges is a product line consisting of Chardonnay, Sauvignon Blanc, Pinot Noir, Sylvaner, Riesling, Gewürztraminer, Müller Thurgau, Pinot Grigio, Merlot, and Cabernet Sauvignon.
And as if that were not enough special features, the Haderburg Estate Winery serves up another one: for nearly fifty years, sparkling wine has been produced here, and specifically with the classic méthode champenoise bottle fermentation process with maturation periods of two to eight years. "In order to remove the residual yeast, the bottles are turned by hand and disgorged," explains Ochsenreiter, who adds, "Up to the final topping off and sealing, we pick up each bottle more than forty times." A great deal of effort for very special enjoyment.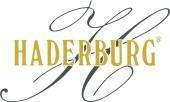 "Working biodynamically means that we act in accordance with the laws of life and also take into consideration the forces that are in the materials and have an effect upon them."
Alois Ochsenreiter, proprietor of the Haderburg Estate Winery
Wine Varieties
Blauburgunder
Chardonnay
Sekt
Gewürztraminer
Sauvignon Blanc
Sylvaner
Riesling
Merlot
Pinot Grigio
Cabernet Sauvignon
Monday - Friday: 9am - 12pm / 1.30pm - 5.30pm
Saturday: 9am - 12pm
On request, max. 10 persons