Dark Reds in the Middle of Bolzano
The vineyards of the Thurnhof are on Virgolo, the home hill of Bolzano
When the Berger family took over the Thurnhof in Bolzano in the middle of the nineteenth century, some 160 years ago, the surroundings were still characterized by classic agricultural activity. Today, the Thurnhof is in the lively district of Aslago, its vineyards lie on the southern slopes of Virgolo, which can confidently be called "the home hill of Bolzano".

The Thurnhof is run by Hans and Andreas Berger, and in spite of the location right in the city, it can still be backbreaking work. It is necessary to work 3.5 hectares of steep vineyards – with great care and a lot of effort: "We put a lot of time into the leaf work, because in that way we ensure that every bunch of grapes grows on a strong, woody shoot," Andreas Berger tells us.

This work and the location on a sun-drenched southern slope with high temperatures through autumn guarantee that even late-ripening red wine varieties can completely mature year after year. And then be made into wine at the Thurnhof with all of the Bergers' know-how. "Our goal is to transfer the precious contents of the grapes as completely as possible into the wine," says Berger, conveying his philosophy, "and in that way our wines receive fruit, structure, and the characteristics that are typical of the variety."

In so doing, the "genuine city winegrowers" as the Bergers call themselves very much focus on diversity: Yellow Muscat and Sauvignon Blanc, Lagrein and Santa Maddalena, Cabernet Sauvignon and Merlot. An extremely broad product line for a small-scale and manageable estate winery.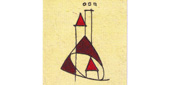 "Our goal is to transfer the precious contents of the grapes as completely as possible into the wine. In that way our wines receive fruit, structure, and the characteristics that are typical of the variety."
Andreas Berger, winegrower at the Thurnhof
Wine Varieties
Lagrein
Vernatsch
Sauvignon Blanc
Goldmuskateller
Cabernet Sauvignon