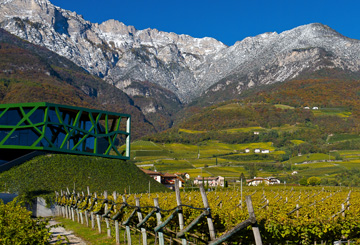 300 Owners, 260 Hectares, 100 Points
Broad basis, best climate, strict procedures
The term "member" is avoided at the Cantina Tramin, with "co-owner" being preferable when it comes to the 300 winegrowers who form the cooperative. After all, the entire foundation of the winery that was founded in 1998 is based upon its winegrowers, their families, and the 260 hectares of vineyards that they tend.

The vineyards of the inhabitants of Termeno lie at elevations from 250 to 850 meters, and therefore a broad palette of locations, soils, and microclimates can be drawn upon. For the work in the vineyards, there are strict specifications, and at the Cantina Tramin, great value is placed above all else upon the precise timing of the harvest. "Our specifications form the basis for the constantly high quality of our wines, for their extraordinary aroma tones, and the flavor with prominent fruit," explains winemaker Willi Stürz.

And precisely the prominent fruit also has natural causes, first and foremost the large temperature differentials between day and night. "During the day, the warm, dry Ora wind from Lake Garda blows over our vineyards and prevents the occurrence of rot," Stürz says. And at night, the temperatures sink to 10 degrees C. and below. The mix of, on one hand, nature being especially gracious and, on the other hand, the care, diligence, and consistency of the co-owners is therefore the Cantina Tramin's recipe for success, from which the winery's calling card profits: Gewürztraminer. Thus the Epokale is the first white wine from Italy to score 100 out of 100 points from the Wine Advocate of Robert Parker.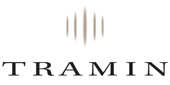 "Our specifications form the basis for the constantly high quality of our wines, for their extraordinary aroma tones, and the flavor with prominent fruit."
Willi Stürz, winemaker at the Cantina Tramin
Wine Varieties
Lagrein
Blauburgunder
Müller Thurgau
Rosenmuskateller
Chardonnay
Weißburgunder
Vernatsch
Gewürztraminer
Sauvignon Blanc
Goldmuskateller
Merlot
Pinot Grigio
Cabernet Sauvignon
April - October: Monday - Friday 9am - 7pm, Saturday 9am - 5pm
November - March: Monday - Friday 9am - 6pm, Saturday 9am - 5pm
Vincerdetail.PartnerEN
Airwns
Vincerdetail.PartnerUS
Winebow