Five Wineries, Five Leading Varieties, One Goal
Sustainability is in first place at the cooperative winery
Up until 1932, there were no fewer than five wineries in the winegrowing village of Caldaro. United under the umbrella of the Cantina Kaltern since 2016, the 650 members of the cooperative tend grape growing areas of 450 hectares and now produce around 3.5 million bottles of wine per year.

"Our cooperative is one big family," emphasizes Christian Sinn, general manager of the Cantina Kaltern. "It holds together the many small family winegrower structures, guarantees quality and safety, and gives its members the opportunity of participating in something great." Bringing forth this "greatness" is a complex undertaking. It is necessary to coordinate all of the members from the pruning of the vines to education and training and to commit them to the winery's quality policy. That, in turn, includes having to establish and inspect the yield goals for around two thousand plots.

All of that in order to create the best conditions for the best wines. Within that context, the production supports above all else five leading varieties. These are – hardly astonishing – Schiava in the form of Lago di Caldaro, Pinot Blanc, Sauvignon Blanc, Cabernet Sauvignon, and Yellow Muscat.

But it doesn't matter which wines are being made or which grape varieties are being grown. For the Cantina Kaltern, the uppermost maxim that is followed both in the vineyard and the winery is sustainability. Thus the winery is the first wine producer in Italy and the first cooperative anywhere to be awarded with the Certification of Sustainability by FAIR 'N GREEN. And with around 15 hectares that are managed biodynamically, the Cantina Kaltern has also taken on the role of forerunner in this area among cooperative wineries.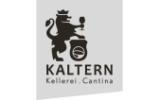 "Our cooperative winery holds together the many small family winegrower structures, guarantees quality and makes it possible for our members to have the opportunity of participating in something great."
Christian Sinn, general manager of the Cantina Kaltern Cooperative Winery
Wine Varieties
Lagrein
Blauburgunder
Müller Thurgau
Rosenmuskateller
Chardonnay
Weißburgunder
Vernatsch
Gewürztraminer
Sauvignon Blanc
Goldmuskateller
Merlot
Pinot Grigio
Cabernet Sauvignon
Kerner
Monday - Saturday: 9am - 7pm
Sunday: 10am - 6pm
From Easter to All Saints' Day every Thursday at 16am and every Friday at 10am and on request.
Registration at winecenter@kellereikaltern.com or +39 0471 966067
Vincerdetail.PartnerUS
Omniwines Distributing LLC (New York)
Enotec Imports
Siema Wines
Meet our Winegrowers
Character, passion and dedication for the wine