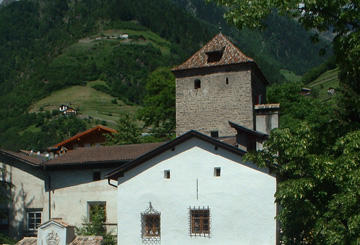 Baron Sigmund von Kripp founded the Stachlburg wine estate in 1990. This year the first vineyard was planted with Pinot Noir (Blauburgunder) and Chardonnay. Since 1992, red and white wines are pressed in our basement of Stachlburg. The castle itself is family owned since 1547.

The altitude of 650m demands special grape varieties, which, particularly on the Partschinser soil on the sunny south-facing hillside, produce exceptionally intense wines. With great care, all wines are aged and rested in our cellar in steel tanks or in barrels.
The wines are generally characterized by a particular fruitiness, an elegant acidity and a delicate structure. At times, also the fortunate exposition to the sun position and the careful thinning can produce fairly full-bodied wines. Other locations are found in the low-lying village of Andrian where with an altitude of only 300m, there is a privileged climate for rich and mineral wines.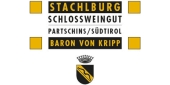 Wine Varieties
Lagrein
Blauburgunder
Chardonnay
Weißburgunder
Sekt
Gewürztraminer
Sauvignon Blanc
Merlot
Pinot Grigio
9am - 12pm / 2.30pm - 7pm
Sunday closed
March - All Saints every Thursday at 5pm
Registration only at the Tourist Association of Parcines +39 0473 967 157

Vincerdetail.PartnerEN
Riegel Bioweine